Productivity and analytics tools are essential for businesses looking to streamline their operations and make data-driven decisions. By leveraging these tools, businesses can increase efficiency, reduce costs, and improve their bottom line.
Did you know that businesses that use productivity tools see an average productivity increase of 20-30%? (source: McKinsey Global Institute) Additionally, businesses that use data analytics tools are 5 times more likely to make faster decisions than their competitors. (source: Forbes)
At Liberation Technology Services, we offer a wide range of productivity and analytics tools to help your business grow. Our business suite, Hub for Teams, is a truly independent alternative to Microsoft 365 and Google Workspace assisting with project management, email, private video messaging, and a plethora of enterprise tools that replace up to 20+ applications all in one hub.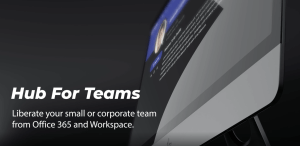 Hub for Teams is a powerful business management and collaboration tool designed to help business owners and their teams stay organized, communicate effectively, and work more efficiently. Here are some key features that make Hub for Teams a top-rated business tool:
Intuitive Project Management: Hub for Teams makes it easy to manage projects with a drag-and-drop interface, customizable task lists, and project templates that can be used again and again.
Seamless Collaboration: With Hub for Teams, team members can collaborate in real-time on projects, share files and documents, and communicate through built-in chat and messaging tools, all in one platform.
Advanced Analytics: Hub for Teams provides detailed analytics and reporting features to help teams track progress, identify bottlenecks, and make data-driven decisions, ensuring projects stay on track and meet deadlines.
Truly Independent: We understand the importance of data privacy and the value of protecting your customers' information. That's why Liberation is committed to never selling your data. We know that your data is one of your most valuable assets, and we believe that it should be kept safe and secure at all times. By choosing Hub for Teams as your one-source-of-truth business hub you can rest assured that your data will never be shared or sold to third-party companies. This means that you can trust us to keep your information confidential and that you can focus on using our platform to streamline your team's collaboration and project management. With Hub for Teams, you can have peace of mind knowing that your data is protected, and your business is in good hands.
It's time to plug into the power of an all-in-one hub. Our team would be honored to talk further about your business goals with a complimentary strategy session. Get started here and our team will be in touch within 48 hours.